Eccentric Screw Pumps / Progressive Cavity Pumps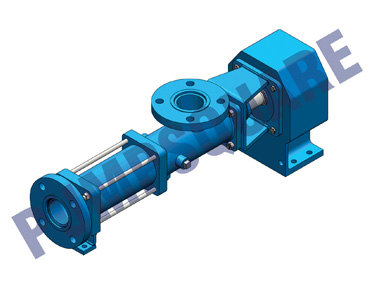 Send Enquiry
Download catalogue
Flow upto 5000 LPM
Pressure upto 24 Bar
Temperature upto 150 c
Shearless Pumping of Fluid
Can Pump Solid Particles
General Information :
The progressive cavity pump is a positive displacement rotary pump. The actual pumping elements of the pump are the rotor and the stator. The single helical rotor rolls eccentrically in a double threaded helix stator of twice the pitch length. A series of sealed cavities 180,part are created that progress from suction and to discharge end. The opposing cavities fill and empty simultaneously resulting in a pulsation free flow. The fluid travels axially with relatively low velocity and minimal agitation of the fluid. This Pump has the Capability to transfer the liquid without Shear and no Churning of the Liquid takes place during Pumping. The stator is made of a resilient elastomers material and vulcanized to the stator tube providing a slide radial interference of the rotor in the stator. The important feature of the pumping principal is the ability to handle slurries and solid particles. The elastomers stator adds abrasion resistance beyond that of conventional rotary pumps. The particles tend to imbed rather than abrade the elastomers stator also allowing deformation to partially accommodate the solid particles. The compression fit of the rotor and stator enables the Progressive cavity pumps to handle gaseous liquids and low viscosity liquids. The pressure capabilities of the pump are a function of the nurnber of times the progressive seal lines are repeated. Our progressive cavity pumps are available in 1, 2, and 4 stage design. Each stage has a maximum pressure lirnit of 6 Bar. This pumps are available in a wide variety of materials and can be easily customized as per the fluid compatibility and requirements. Our progressive cavity pumps are versatile, rugged, compact and highly efficient.
If the fluid is delicate, shear sensitive or abrasive, low or high viscosity, with fibers, high air content, or large solids, our progressive cavity pumps can solve the problem of moving the fluid. Pumps are available for Discharge pressure upto 24 Bar, flow upto 5000 LPM, temperature upto 150°C.
Special Features :
Solid drive design provides strength for rigorous continuous operation.
Unique Pivot-joint design extends service life and reduces replacement cost.
Single, Two and four stage models for pressures upto 24 Bar
Equal Wall Stator design available for some models which reduces pump slippage and increases pressure limit.
Close coupled models with built on speed reducers offer a compact unit
Stators are available in a wide range of elastomers.
Suction lift to 28" w.c.